Henrietta ~ $465
Up for adoption is this tiny teddy named Henrietta. She is 7" tall and made from a synthetic plush that is perfectly scaled down to have similar traits and guardhairs like I use on larger bears. This fur is an off shade of pure white and not as ivory as appears in photos which in Winter light are not as accurate as I'd like.
Henrietta has five way cotter-pin/hardboard jointing and is stuffed with some cotton and some polyfil and has bb's in her belly and rump for weight. Her soft gray ultrasuede paw pads have been elaborately sculpted with pulled toes to add dimension.
Henrietta wears a tutu and bodice that I fashioned by "draping" onto her finished body and then stitched together at the waist and in several other areas in such a way as to not be removable. Under her pink and lace upper skirt there is a layer of pink polka dot organza. Draping and then stitching the fabric onto her allows for a perfect fit and for ease of creating more detail with added trims and pearls.
Henrietta has a bow sewn onto her head and a pearl necklace. I pigmented her chin, nose, inner ears and eyelids with a matching shade of cool gray for a pale pinkish gray finish that coordinates with her outfit. She has pale gray glass eyes with upper and lower eyelids.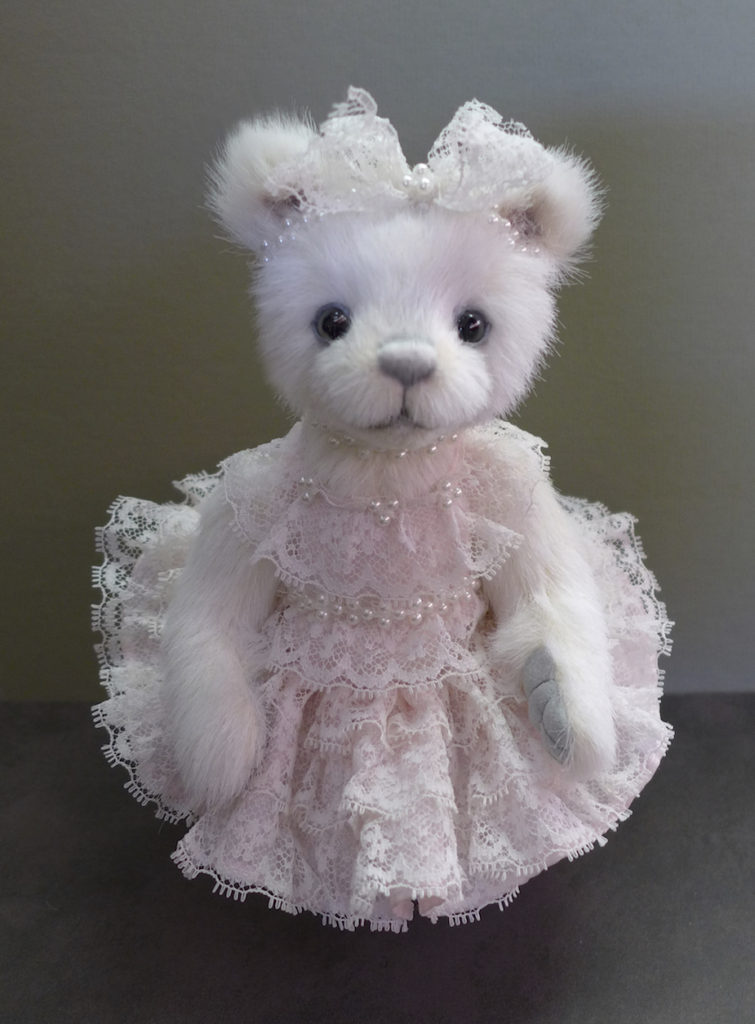 Henrietta is available for adoption fee of $465 and I will take names of all interested parties for a week and draw a name on January 19th. She will come with a heart hang tag and a Certificate of Authenticity proving her to be a "One&Only"Bear made by Michelle Lamb. Shipping is actual cost and based on buyers choice of method. Paypal available if you choose, I will send invoice after receiving email from the winner with their address and choice of shipping. International bidders incur a 2% fee because they need to use Paypal but I absorb the remainder unless you are using layaway which is available on all bears, just email for details and terms.