Tangier ~ $720
Up for adoption is this silvery beige bear that I named Tangier. He is made from a lovely synthetic plush with a multi-toned beige underfur and longer silvery guardhairs. He is 18" long and has hardboard/locknut jointing and stuffed with polyfil and has a pouch of bb's inside for a nice weighty feel.
Tangier has luminous glass eyes of amber. I painted the backs to have a larger pupil and then did frosty shades of golds to give them their magical look. Then I gave him under eyelids for added expression. His nose is sculpted from Apoxie resin clay in a matching shade of beige and I added a realistic texture to it and additional pigment and shading as well, then coat it with matte finish enamel. I shaded his muzzle, eye, mouth and inner ears to add dimension and depth to his coloration.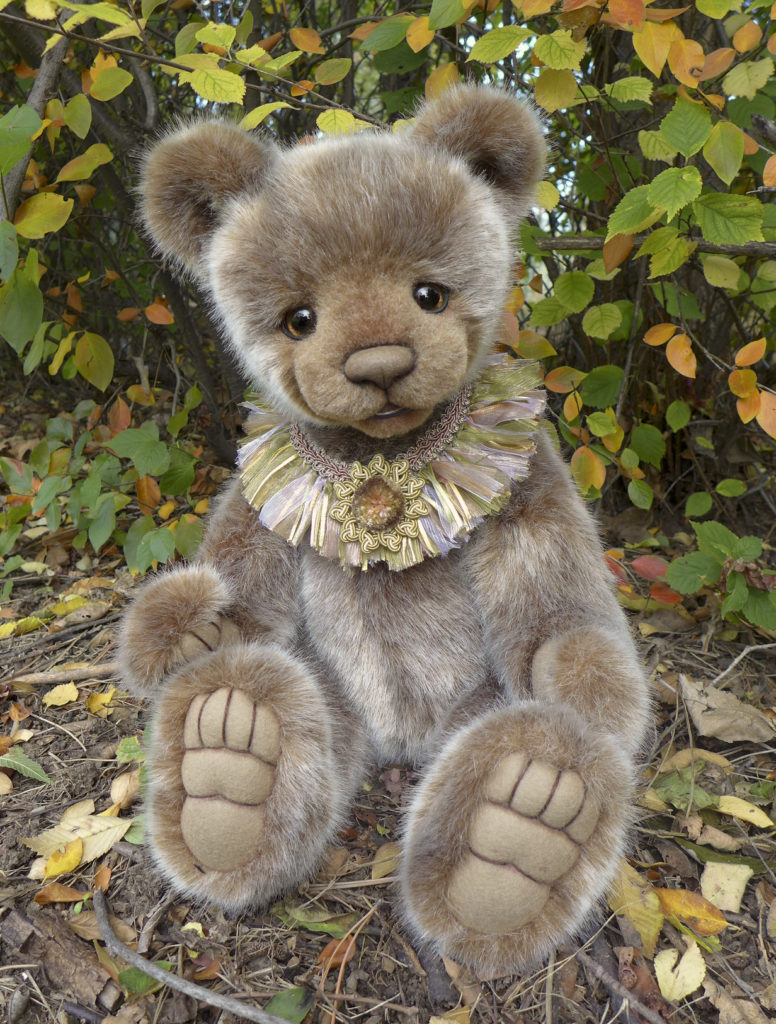 Tangier has a simulated open mouth with just a touch of tongue peeking out above subtle embroidery to suggest row of teeth and a leather lower lipline. He has elaborately sculpted pulled toes with shading as well. All of this added pigmentation is was done to bring out some rosy shades of his fur and I used this same peachy shade along with it's complementary of pale greens, silvery beiges in his neck ruff. The ruff is a multi-toned layering of both thin satin ribbon and sheer organdy ribbons, topped with a braided gimp and centered with a medallion of knotted cording.
Tangier is available for adoption fee of $720 and I will take names of all interested parties for a week and draw a name on October 28th. He will come with a tush tag and a Certificate of Authenticity proving him to be a "One&Only"Bear made by Michelle Lamb. Shipping is actual cost and based on buyers choice of method. Paypal available if you choose, I will send invoice after receiving email from the winner with their address and choice of shipping. Layaway available on all my bears, email for details. International winners will have to pay a 2% fee for using Paypal and I will absorb the remaining 2.5%.