Benedict ~ $720
Up for adoption is this large brown bear that I named Benedict. He is made from a synthetic plush that has varied textures of dark brown fur mixed with long white guardhairs for realism. Benedict is 20" long and has hardboard/locknut jointing and is stuffed with polyfil and has a pouch of bb's inside for a nice weighty feeling. He also has strong earth magnets inside his paw pads so he can clasp his hands together.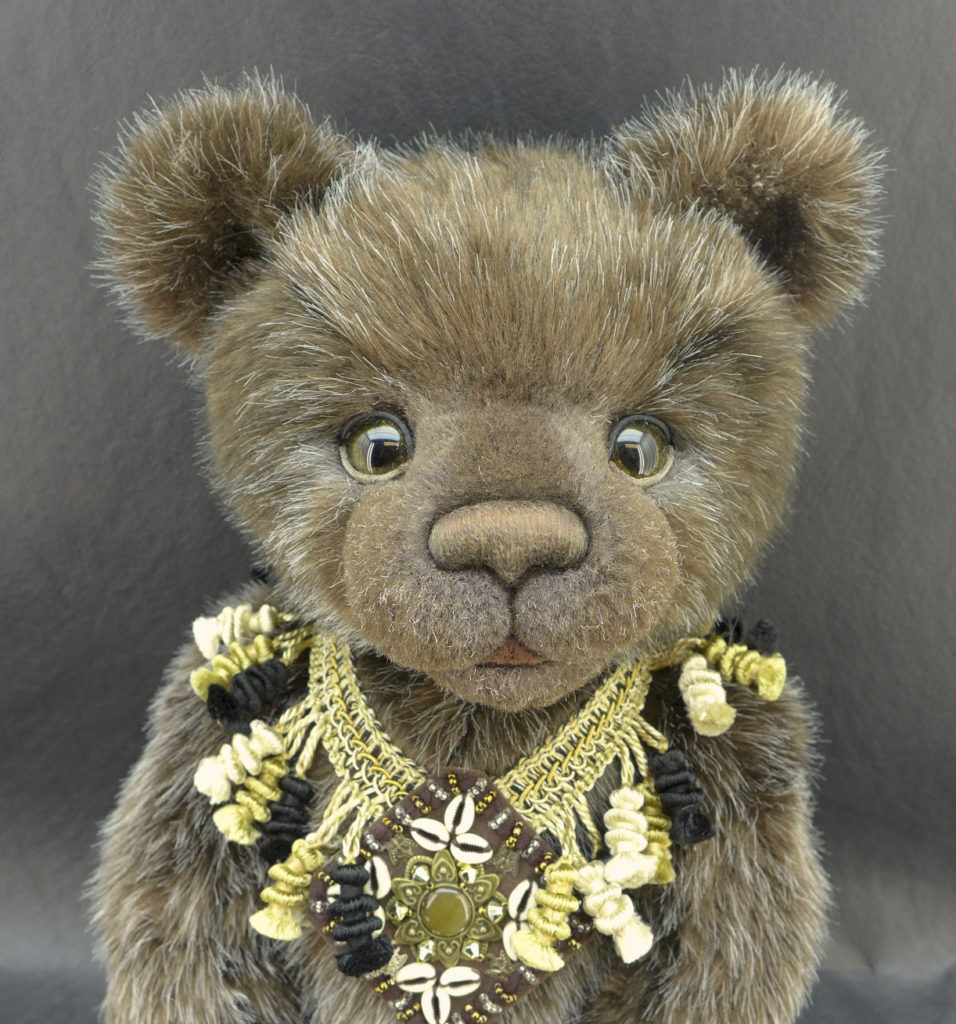 Benedict has luminous glass eyes of deep golden greenish brown created by custom painting the backs of translucent charcoal eyes. He has both upper and lower eyelids, the lower one pigmented to coordinate with the deep gold of his neck collar. His floss nose was also pigmented with richer tones of rosy browns to add that same warmth found in his fur.
Benedict has a simulated open mouth where I sculpt a deeply undercut upper lip sections and create a triangle of rosy tongue peeking out, lower lip line sculpted with black floss and the chin fur cut very short. I also added some paler shades of white to the upper lips and muzzle to balance the same whites of his guardhairs and to add dimension, depth and contrast to his dark furred muzzle. Benedict wears an elaborate collar of braided cording and multi-toned tassels, with a medallion of beaded shells/metal at it's center. He has pulled toes on his ultrasuede paw pads with shading.
Benedict is available for adoption fee of $720 and I will take names of all interested parties for a week and draw a name on November 1st. He will come with a tush tag and a Certificate of Authenticity proving him to be a "One&Only"Bear made by Michelle Lamb. Shipping is actual cost and based on buyers choice of method. Paypal available if you choose, I will send invoice after receiving email from the winner with their address and choice of shipping. International bidders incur a 2% fee because they need to use Paypal but I absorb the remainder unless you are using layaway which is available on all bears, just email for details and terms.